Finn's hat-trick help England win first warm-up match
Submitted by Narinder Hans on Sun, 10/09/2011 - 11:44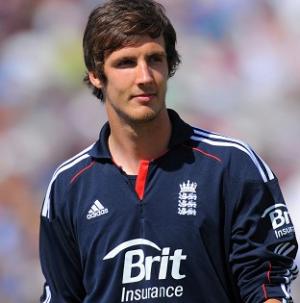 Hyderabad, Oct 9 - A fine hat-trick by Steven Finn helped England defeat Hyderabad XI by 56 runs in their 50-over warm-up match at the Rajiv Gandhi Stadium here Saturday.
Chasing a target of 220 runs in the day-night match, Hyderabad were all out for 163 in 36.5 overs.
Finn's hat-trick folded up Hyderabad innings and ensured that the English team score a comprehensive win despite not so impressive performance by their batsmen.
England will play the second warm-up match against the same team on Oct 11 before the first one-day international against India at the same venue on Oct 14.
Arjun Yadav was the top scorer for the home team with 47 off 74 balls, including three boundaries and two sixes.
Hyderabad opener Akshat Reddy opened the innings dramatically by hitting the first ball for a six but was run out on the first ball of the next over. Captain D. B. Ravi Teja disappointed, getting bowled by Finn in the third over for one run.
It was Yadav and Neeraj Bist (29, 50 balls) who provided some stability, posting 55 runs for the third wicket.
Yadav and Ahmed Quadri (19,28 balls) added 32 runs for the fourth wicket. After Yadav got run out at 126, Amul Shinde (25,27b) tried to rebuild the innings but his dismissal ended all the hopes for the hosts.
Finn ended Hyderabad's innings with a hat-trick, bowling Shinde and Kanishk Naidu and dismissing Anwar Ahmed leg-before on the third, fourth and fifth balls of the 36th over.
Finn claimed four wickets for 28 while Chris Woakes bagged two wickets for 30.
Earlier, electing to bat after winning the toss, England were all out for 219 in 47.2 overs.
The visitors were struggling at 47 for four in 14th over when Ravi Bopara came to the rescue.
Bopara top scored with 73 runs while Chris Woakes remained unbeaten on 46.
Anwar Ahmed and Ahmed Quadri took 3 for 35 and 3 for 25, respectively. (IANS)