FIFA firm on rejecting WADA doping rule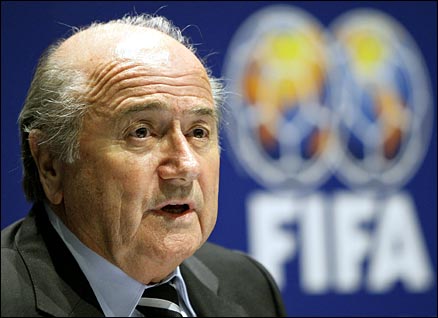 Copenhagen - FIFA president Joseph Blatter remained adamant Wednesday in opposition to the World Anti-Doping Agency (WADA) out-of-competition testing rules.
"We are the international federations which probably undertake the most but we need some private sphere for our footballers," Blatter said while attending the UEFA congress in Copenhagen.
Blatter said the federations were jointly combating doping but this should not turn into a "witch hunt."
WADA had said Tuesday it was "surprised and concerned" to read of FIFA and UEFA's opposition to the "whereabouts" requirements that took effect on January 1, 2009.
WADA president John Fahey accused FIFA and UEFA of ignoring reality on their opposition to out-of-competition drugs testing.
"One of the key principles of efficient doping control is the surprise effect and the possibility to test an athlete without advance notice on a 365 day basis," he said in statement.
"Alleging, as FIFA and UEFA do, that testing should only take place at training grounds and not during holiday periods, ignores the reality of doping in sport.
"Experience has demonstrated that athletes who cheat seize every opportunity to do so and dope when they believe they won't be tested."
Since the beginning of January, the world anti-doping code requires elite athletes to give notice of their location on a chosen one-hour period each day, seven days a week.
FIFA and UEFA formally rejected the notion of having to inform doping officials of the individual location of team-sport athletes.
In a statement they said there were "fundamental differences between an individual athlete, who trains on his own, on the one hand, and a team-sport athlete, who is present at the stadium six days out of seven, and thus easy to locate, on the other hand."
The federations said they would like to see the individual "whereabouts" rule replaced by collective location rules, within the scope of the team and within the stadium infrastructure.
It also said it wanted "to draw attention to the fact that, both on a political and juridical level, the legality of the lack of respect of the private life of players, a fundamental element of individual liberty, can be questioned." (dpa)