Fastned raises €150 million though accelerated bookbuild offering to qualified investors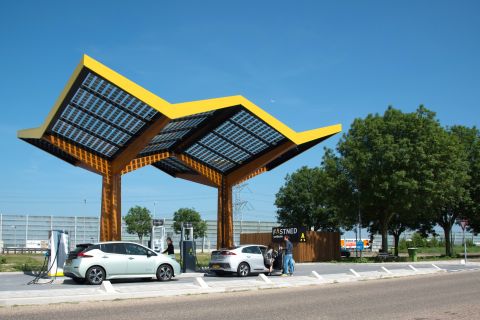 Pushing ahead with its expansion plans, European EV fast-charging network developer Fastned has successfully raised €150 million though an accelerated bookbuild offering to qualified investors. The Amsterdam-based company informed that 1,875,000 new depositary receipts of ordinary shares were offered to qualified investors at a price of €80 each, which results in gross proceeds of €150 million (roughly US$180 million). Making the announcement through a press release, Fastned also revealed that the new securities represent almost 12.5 per cent of the company's existing issued share capital.
The company also explains that the proceeds generated through the accelerated bookbuild offering will be utilized mostly to fund the further expansion of its EV fast-charging network. Currently, the company's fast-charging network consists of 133 stations. In addition to those 133 stations, the company is working on 164 stations, which are currently in the pipeline. It means that the company has an intention to reach the milestone of 300 stations within next couple of years.
Fastned is trying to expand its fast-charging network across Europe, but France and Germany are among its top markets in the continent.
Michiel Langezaal, chief executive of Fastned said they were feeling very happy at the successful completion of fund raising as it would allow them to accelerate its expansion plans by enabling it to build more and bigger fast charging stations. He stressed that expanding EV fast-charging network is essential to help people make a shift from conventional petrol/diesel-powered vehicles to environment-friendly EVs.
Speaking on the topic, CEO Langezaal said, "We are very happy with this successful capital raise which allows Fastned to significantly accelerate its expansion plans. It enables us to build more and bigger fast charging stations across multiple countries, living up to our mission of accelerating the transition towards sustainable mobility by giving freedom to electric drivers."
Langezaal added that the accelerated bookbuild offering attracted robust institutional investors to the company's shareholder base, providing a significant increase in the free float of the depositary receipts trading on Euronext Amsterdam.
The successful capital raising and expansion plans are in line with the company's ambition to become the leading EV fast-charging network in the entire Europe.
Founded in 2012, Fastned is particularly making its presence felt in the Netherlands, Germany, Belgium, Switzerland, and the United Kingdom. A large majority of its EV charging stations are at Dutch highway rest areas. Only 11% of the company can be traded on Euronext Amsterdam as the remaining shares are owned by co-founders Bart Lubbers (51%) and Michiel Langezaal (30%) and by investment firm Breesaap (8%).