EUR/USD Daily Commentary for 4.24.09
The EUR/USD has put on an incredible rally the last 24 hours, surging past 4/10 lows to our 1st tier downtrend line.  The EUR/USD surpassing the highly psychological 1.30 level and our 3rd tier uptrend line on Thursday was a clear instigating force in sending the currency pair higher.  Yesterday's better than expected services and manufacturing PMI data combined with today's optimistic German Ifo Business Climate reading are giving the Euro incredible strength. 
All of these data points relay a message that the overall outlook of business managers is improving in the EU.  However, what remains to be seen is whether the upturn in these significant data sets materializes into a real uptrend, or merely a bounce in a downtrend.  Only time will tell.  At least the EUR/USD bulls have something to cheer about now.  The relative strength of the Euro is exemplified by a breakout in the EUR/GBP as it made a psychological move of its own by shooting above .90. 
Despite its impressive run, the EUR/USD is ducking back below our 1st tier downtrend line as investors react to Durable Goods Orders from the U.S.  We remain cautiously optimistic as we must remember the ECB has been vague concerning its future monetary policy, creating a lot of uncertainty among the investment world.  Caution aside, the EUR/USD has made some encouraging progress to the topside.  The next set of challenges will be climbing above 4/09 highs and our 2nd and 3rd downtrend lines. 
Fundamentally, we find supports of 1.3211, 1.3178, 1.3143, 1.3109, and 1.1.3068.  To the topside, we see resistances of 1.3269, 1.3297, 1.3335, 1.3379, and 1.3411.  1.30 becomes a key psychological cushion while 1.35 serves as a psychological barrier.  The EUR/USD is currently exchanging at 1.3237.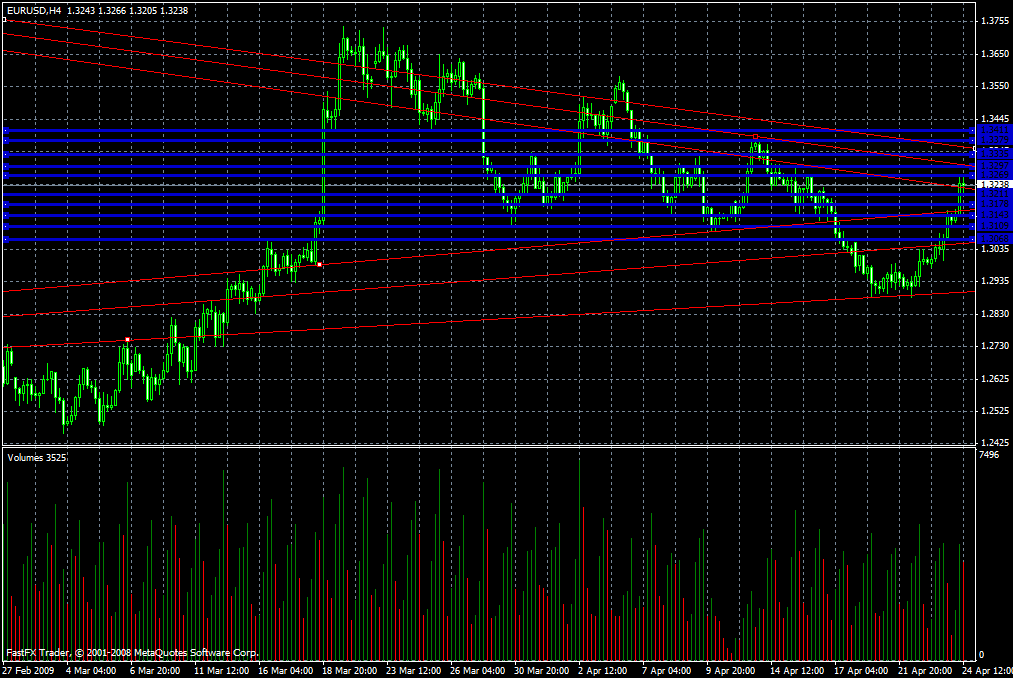 Copyright 2009 FastBrokers, Latest Forex News and Analysis for Forex, Bullion and Commodity Traders.
Disclaimer: For information purposes only. FastBrokers assumes no responsibility or liability from gains or losses incurred by the information herein contained. There is a substantial risk of loss in trading futures and foreign exchange.