EC objects to Moily's promise to raise LPG cap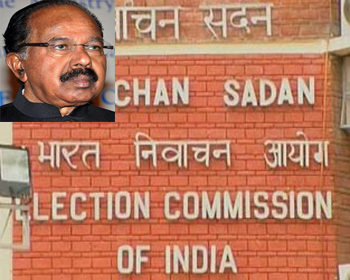 The Election commission (EC) has asked the union government to stop raising the cap on subsidised LPG (cooking gas) cylinders, emphasizing that raising the cap just ahead of the Gujarat assembly polls would violate the code of conduct.
Chief Election Commissioner VS Sampath announced the diktat immediately after Oil Minister Veerappa Moily announced the proposal to raise the cap on subsidised LPG cylinders from 6 to 9 per household per year.
Responding to a question on whether a cap on subsidised LPG cylinders would be removed, Moily said, "We are considering raising it shortly. I think it is likely to go up definitely from six to nine."
Moily also said that he had held two rounds of discussions with Finance Minister P Chidambaram on the impact of increasing the number of subsidised LPG cylinders that a household can avail per year. He added that the government would have to provide an estimated of Rs 9,000 crore more per annum, thus they were working on a formula to counterbalance it.
But, the EC objected to the announcement as it could be the government's tactic to influence the upcoming Gujarat polls. Gujarat polls will take place in two phases on 13th and 17th of December.
The Congress-led UPA government has been under intense pressure from the Opposition as well as some of its partners since the cap took effect on 13th of September as it has affected the government's image.