Drako's $1.2 million GTE electric supercar showcases stunning performance in the snow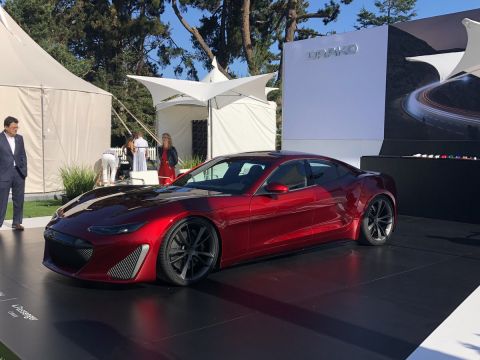 American electric vehicle (EV) startup Drako Motors has released some really stunning images and a short video, featuring its all-electric Drako GTE supercar in action in snow. The Silicon Valley, California-based EV startup made the Drako GTE to perform in snow as part of a test program that it is conducting ahead of the start of deliveries of the electric supercar. The winter test revealed the supercar's ability to perform in harsh, chilly conditions, but people who spend $1.2 million to buy the EV will most probably not use the vehicle in those conditions.
The Drako GTE sports a 90-kWh battery pack, four electric motors (one at each wheel), DriveOS system, and 150-kW fast-charging capacity. Each of the quad motors is paired to an individual high-capacity inverter that has been specifically designed and developed for ensuring extreme performance driving. The independent inverters ensure distribution of a massive range of power from plus 225 kW to minus 225 kW through each electric motor with very precise speed as well as accuracy.
With 90-kWh of energy capacity and the ability to produce 1,800 incessant and 2,200 peak amps, it battery pack supplies the four motors with 900 kW of unremitting power.
The latest performance (winter) test was conducted in Steamboat Springs, Colorado. In a newly released statement, the company explained that the test was carried out by racing driver Andy Pilgrim on the Winter Performance Track, at an elevation of 6,700 feet in Steamboat Springs, Colorado.
Sharing information on the EV's winter test, Drako said, "Pilgrim powers the GTE through deep, rutted snow, connecting corners with high-speed, tail-out slides that belie its ease of control. Watch the front wheels as Pilgrim enters and maintains each slide, paying special attention to how few corrections he makes, and how little steering angle is needed to rotate the car."
The footage shows that the driver is able to guide the EV's steering wheel with his fingertips, thanks to the GTE's lightning-quick responses to the driver inputs.
As per the startup's claims, the Drako GTE supercar will specifically cater to needs of those who want the latest in the modern technologies. Having a colossal 1,200 hp and 8,800 Nm of torque for unrelenting acceleration up to a top speed of 206 mph, the supercar offers enough to take the modern driver experience to a completely new level.