Dr Reddy's net surges 120%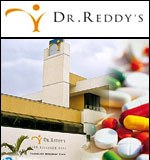 Country's second-largest drug maker by sales, Dr Reddy's Laboratories (DRL) reported 120 per cent increase in its profit due to its efficient business management; new products launch and handling of cost issues without impacting its business.
Its net profit stood at Rs 244.5 crore for the first quarter ended June 30, 2009 as compared to Rs 111.1 crore in the same period last year. DRL reported 21 per cent rise in its income that stood at Rs 1,820 crore amid uncertain conditions of economic market.
Company CFO Satish Reddy said, "We are on track to achieve our revenue growth forecast for March 2010, and we don't see any risk to the guidance."
DRL reported unprecedented growth in sales of its generic migraine drug, Sumatriptan in the North American and Indian markets and that significantly propelled its margin.
The drug maker also made advantage of regulatory restriction over its competitors in the US market that accounts for over a third of the firm's revenues.
Mr. Satish Reddy further said, "We do not see any risk to guidance. New product launches, stronger product portfolio and a healthy order book would help us sustain the growth momentum."
Shares of DRL declined 0.18 per cent to close at Rs 789.55 on BSE on Tuesday.