Denmark moves to allow gay couples to adopt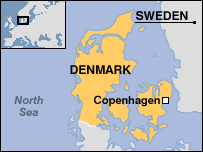 Copenhagen - A Danish parliament vote allowing same-sex couples to adopt children continued Wednesday to generate reaction from opponents and supporters.
The legislation was passed Tuesday by a 63 to 52 vote after six members of the Liberal Party, the main force in the minority government, broke ranks and voted for the proposal.
The government must now draft a bill to be presented to parliament.
The populist Danish People's Party that backs the government was Wednesday critical that six members of Prime Minister Anders Fogh Rasmussen's Liberal Party broke file.
"Both the parliamentary group and leadership of the Danish People's Party are angered at being humiliated in this manner," Soren Espersen of the Danish People's Party told the online site altinget. dk.
After the vote Justice Minister Brian Mikkelsen of the Conservatives, junior partner in the ruling coalition, said it was "an empty gesture" saying that none of the countries that Danish adoption agencies cooperate with allow gays to adopt.
Soren Laursen, spokesman on adoption issues for the Danish National Association of Gays and Lesbians, said the main issue was that legislation was "equal for all."
Denmark in 1989 became the first country to allow registered partnership between same-sex couples. But in other areas progress has been slower, the National Association of Gays and Lesbians has maintained, citing the delay before lesbians or single women were allowed the same access to assisted conception as other women. (dpa)