The Deep Secrets of Big Boss
The Latest evictee of Big Boss, Sambhavna Seth said that she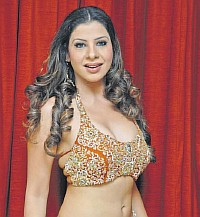 had taken part in the Reality show to fulfill her dad's wish. The wish was to see her on television everyday. She commented that she had never thought that her visit to the Big Boss would stretch to such a long period because it was very difficult to survive under so much controversy and politics.
Seth had not made any friends at the house as she believed that nobody was for real .Everybody had a hidden motive to win and could go to any extent to let the other person down. However she did show the positive side of the show by calling it a fruitful experience and also making it clear that the show was not scripted. she felt the show brought out extreme emotions of people and one did a lot of things which one regretted later. To quote Sambhavna "You could have seen how hyper I got .I cried a lot, laughed a bit too much and got a bit too abusive.But, then what else could I have done when everybody had turned against me?"
She called Zulfi a horrid guy" I think he is very dangerous. He is poisonous and a very strange character". She did not hold Rahul Mahajan in very high esteem either but said that he knew very well how to play the game and could be a prospective winner.
Spitting more venom her biggest enemy was Payal Rohatgi because she humiliated her, said mean things to her and also called her downmarket, but Seth brought out a shocking reality that she shared her bed with Rahul and also the washroom on the pretext of washing clothes. Ooops! What's the world coming to.
On her entry to Big Boss, through wild card, she definitely wanted to go back, as she wanted to teach all those at the house a lesson. Quoting "Dobara jaake sabka band bajana hai!".We have seen to which level our reel life heroes stoop but this is unbelievable.