Debit Cards vs Credit Cards – Features, Pros and Cons – Fincover
Debit cards are the easiest financial instrument as they relieve us from carry loads of cash in our wallet. Using a Debit card, you can withdraw cash anytime in ATM, use it to swipe at merchant outlets, or even shop online.
Debit cards are linked to savings/salary account. As soon as you perform any transaction, you will receive an alert through SMS and email. You can also check the usage through netbanking, where you can see your purchases and withdrawals. The bank also sends a monthly statement to your registered email.
Credit Cards on the other hand have their own set of usages. It is basically like borrowing money from a bank when you do not have it and repay it at a later date. The amount you spend on your credit card is added to your credit card statement bill for the next month. You will have to settle your credit dues on a fixed date every month. The billing cycle of credit card varies from bank to bank. At Fincover, you can find a range of best credit cards in India from Multiple banks. You can apply for the card from your desk without any hassles.
Credit cards come with an annual fee though there are some cards issued that are life-time free. Credit cards are instruments with highest financial charges. If you fail to make a payment towards your outstanding or just make a part payment, then an interest is charged on the outstanding amount. Moreover, if you fail to make the payment within the Payment Due date (PDD), then a late payment fee (LPF) is levied on to your account. The best credit cards in India have multiple features and benefit which makes it ideal for customers from all walks of life.
Both credit cards and debit cards have their own set of advantages and disadvantages. While debit card lets you spend within your financial abilities and prevents from falling into debt, however, in the event of big purchases or during instances, where you do not have sufficient balance in your account, it might be rendered useless. In such cases, credit cards allow you to make your purchases easily. You can then repay the amount in the next billing cycle.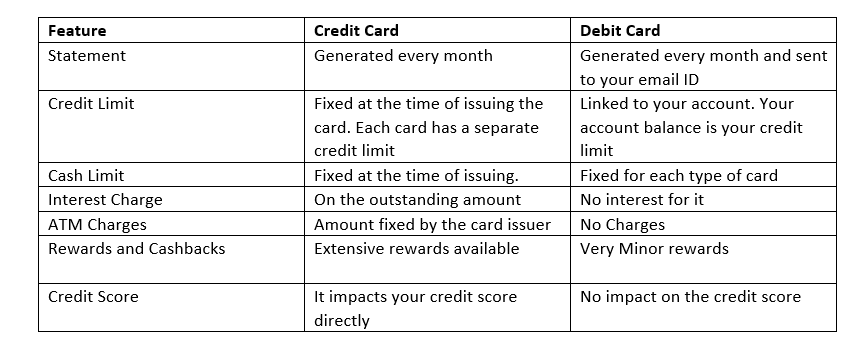 Pros and Cons of Credit Cards
Pros:
Convenience: Credit cards offer maximum convenience, allowing you to make purchases without having to carry cash. They are widely accepted worldwide, enabling you to make transactions both online and offline with ease.
Build Credit History: Responsible use of a credit card can help you build a positive credit history. Regular payments and maintaining a low credit utilization ratio can boost your credit score, which is essential for securing loans or mortgages in the future.
Rewards and Perks: Many credit cards come with rewards programs, offering cashbacks, travel miles, or discounts on purchases. These perks can add value to your spending and enhance your overall financial experience.
Cons:
Debt Accumulation: One of the biggest risks with credit cards is the temptation to overspend. If you're not disciplined with repayments, the outstanding balance can accumulate, resulting in high-interest charges and potential debt problems.
Interest Charges: If you carry a balance on your credit card, you will incur interest charges on the outstanding amount. These interest rates can be high, leading to financial crisis if not managed effectively.
Pros and Cons of Debit Cards:
Pros:
Budget-Friendly: When using a debit card, you can only spend the funds available in your savings account. This helps you stay within your budget.
No Debt Accumulation: there is no debt accumulation in debit cards. Every transaction is directly debited from your bank account, ensuring you spend only what you have.
ATM Access: Debit cards allow easy access to ATMs, allowing you to withdraw cash or check your account balance whenever needed.
Cons:
Limited Fraud Protection: Though Debit cards offer some level of fraud protection, the process of recovering funds from unauthorized transactions can be more complicated compared to credit cards. It may take longer to resolve disputes and regain lost funds.
No Credit Building: Debit card usage does not contribute to building a credit history. If you are looking to establish or improve your credit score, a debit card may be insufficient.