Death toll on migrant boat rises to three in Spain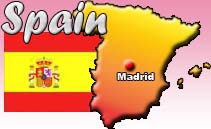 Canary Islands - A would-be immigrant who had come from Africa died Tuesday at a hospital on the Spanish Canary Island of Tenerife, raising the death toll to three on a boat which had carried a total of 123 migrants, health officials said.
The boat arrived on the Canary Island of El Hierro on Monday.
The two victims who died earlier included a minor. Five other migrants were reported in serious condition.
A total of 24 of the migrants were given medical care for symptoms including dehydration and hypothermia at hospitals on El Hierro and Tenerife.
Another would-be immigrant, who had arrived on Tenerife a week earlier, meanwhile died at hospital on Monday, officials said.
The migrant had come on board a boat which was intercepted by the coast guard.
Spain receives thousands of undocumented African immigrants annually.
Most of them use routes leading from the West African coast to the Canary Islands. T
housands of Africans are believed to have drowned or died of exposure during attempts to reach Spain. (dpa)