Costa Rica, China agree to launch talks towards free-trade deal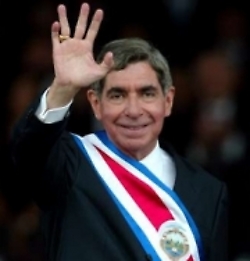 San Jose  - Costa Rican President Oscar Arias and Chinese leader Hu Jintao agreed Monday in San Jose to launch talks towards a free-trade agreement between the two nations.
The heads of state met in the framework of Hu's visit to Costa Rica, the first that a Chinese leader has made to a Central American country.
Central America has traditionally favoured Taiwan, but Costa Rica switched recognition to China in June 2007, after 63 years of ties with Taipei. Only 23 remaining countries recognize Taiwan, and half of them in Latin America and the Caribbean.
Talks towards a free-trade agreement between Costa Rica and China are set to start on January 19, 2009 in San Jose, and six to eight rounds of bilateral talks are estimated to be required before the deal can be finalized, said Costa Rican Trade Minister Marco Vinicio Ruiz.
China is Costa Rica's second-most-important trade partner, even though the two countries did not have diplomatic ties prior to June 2007. Bilateral trade is now estimated at 2 billion dollars per year.
Prior to the establishment of ties, trade took place through intermediaries or third countries. Costa Rican commercial authorities believe a free-trade deal will increase the export of goods to China by 11 per cent in the short run.
Arias and Hu defined the visit as "historic." The Chinese leader was reciprocating Arias' visit from October 2007.
The two leaders signed 11 agreements in fields such as banking, trade, education and energy.
China has granted Costa Rica 430 million dollars in aid, including the purchase of 300 million dollars in Costa Rican debt titles and the construction of a new stadium in San Jose worth over 83 million dollars.
Hu arrived in Costa Rica late Sunday and visited the Legislature, among other institutions.
He was set to travel to Cuba late Monday, before attending the Asia-Pacific Economic Cooperation (APEC) forum Saturday and Sunday in Lima. (dpa)