Constitution making process will be more difficult: Koirala
Kathmandu, May 7 :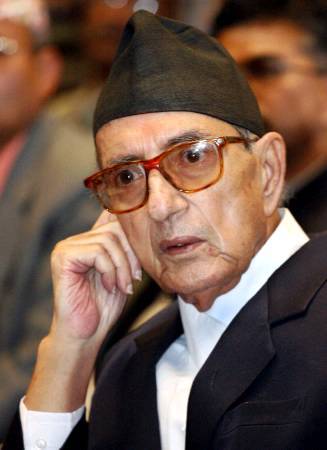 Nepal Prime Minister Girija Prasad Koirala has told the newly elected members of the Federation of Nepalese Journalists (FNJ) that the constitution making process would be a more difficult task than the peace process in Nepal.
Koirala asked FNJ members to work seriously in the coming days to help draft a democratic Constitution for Nepal.
Koirala also assured the FNJ team of all possible support for journalists in the future.
Newly elected FNJ President Dharmendra Jha, General Secretary Poshan KC and Treasurer Ramesh Bista, Secretary Ramji Dahal were among those present at the meeting.
Meanwhile, the Coordinator of the Madhesi Janadhikar Forum (MJF), Upendra Yadav, has said that parties must forge a broad consensus prior to the first sitting of the Constituent Assembly (CA), which is expected to take major decisions, including implementation of the republic.
Addressing a meeting here, Yadav said the people's mandate was clearly for political consensus and that major parties should gear up for reaching a consensus on the proposed amendment in the interim Constitution, the formation of the new government as well as on agendas raised by Madhesi parties.
Yadav made it clear that the MJF would support any party that is able to take all major political parties into confidence, and that it would consider joining the government if that happened. (ANI)