Congress doesn't see EC's order on cash transfer scheme as slap or snub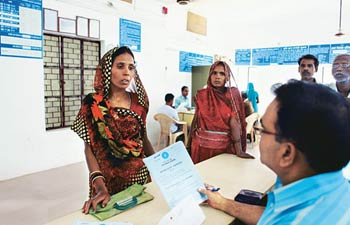 Responding to Election Commission's harsh comments on the government's decision to implement the Direct Cash Transfer Scheme (DCT) during election time in Gujarat and Himachal Pradesh, the ruling Congress claimed that the commission hadn't snubbed the government, but just asked it to delay the implementation of the scheme.
The EC criticized the announcement time for the implementations of the Aadhar-based direct cash transfer scheme saying the announcement was avoidable. It also ordered the government to keep the process of the implementation of the scheme in abeyance in the two election-bound states.
While BJP, which had complained that the government announced the scheme during election time to influence voters, is see the commission's comments as a slap on the government's face; the government is claiming that it is not a slap.
In its response to the commission's comments, Congress spokesperson PC Chacko said, "It is not a slap, and it is not a snub, not even a negative comment. ... The government stand is not being questioned by the EC."
The scheme, which aims to streamline subsidies and eradicating ghost beneficiaries, is allegedly a major poll hook for Congress, which is hyping the scheme with the slogan "aap ka paisa, aap ke haath".
The Direct Cash Transfer Scheme is scheduled to be rolled out in a total of fifty-one districts, four of which are in Gujarat and two are in Himachal Pradesh, from January 1, 2013.