Clinton, Obama clash before Tuesday duel in North Carolina, Indiana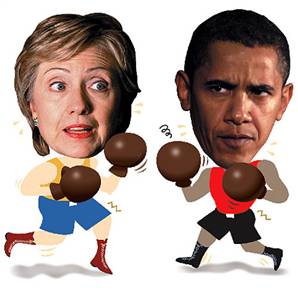 Washington  - Democratic presidential candidates Barack Obama and Hillary Clinton face off again Tuesday after crisscrossing the crucial states of North Carolina and Indiana in the last few days, clashing on petrol prices and broader economic relief.
Both campaigns played down expectations of landing a knock-out blow, as opinion polls suggested another split decision by voters in the two largest states left in the four-month-old nomination contest.
Obama has been expected to win North Carolina, a southern state with a large African-American population, while Clinton leads in the mid-western state of Indiana.
The high cost of petrol in the United States has dominated much of the discussion in the campaign's final days. Clinton has lobbied for a federal petrol tax holiday over the three summer months, a move Obama has called a political "gimmick" that would save voters little money.
Both sides are hoping to win over blue-collar workers that make up a large number of voters in Indiana, a demographic group struggling amid an economic downturn in the United States that has typically favoured Clinton.
Clinton on Sunday said Obama's opposition to lifting the petrol tax was part of "elite opinion basically behind policies that haven't worked well for the middle class."
Obama on CNN Monday called the former first lady's criticism "nonsense," arguing that "there's nobody who thinks that a gas tax holiday is going to lower gas prices over the long term" and calling for broader middle-class tax cuts.
In the quest for the 2,024 delegates needed to capture the Democratic nomination, Obama currently leads by 1,743 to 1,606 according to a count by website realclearpolitics. com. North Carolina has 115 and Indiana 72 delegates up for grabs.
With just 200 delegates left in the six electoral contests remaining after Tuesday, both campaigns have turned to persuading nearly 300 undecided super-delegates - Democratic Party leaders and activists - who could still potentially swing the nomination in either candidate's favour. (dpa)