China launches swine flu education drive in schools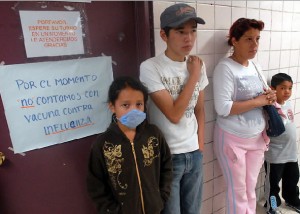 Beijing - China has launched a campaign to educate all schoolchildren in the symptoms and prevention of swine flu, the government said on Thursday.
Schools nationwide should educate children about swine flu as soon as possible to raise awareness and "avoid causing unnecessary panic among teachers and students," the education and health ministries said in a joint notice published on their websites.
The schools should teach children about good hygiene and the avoidance of contact with flu-infected people, the notice said.
It said children in rural areas should avoid contact with pigs and urged stricter management of pigs raised by rural schools.
Local health workers should promptly report any suspected swine flu cases, the notice said.
China has reported no confirmed or suspected cases of swine flu so far, but the government warned Tuesday that it "did not exclude the possibility that the epidemic could spread to China" if the number of cases in other countries continued to grow.
On Wednesday, the health ministry said medical checks had ruled out swine flu in several students who suffered respiratory problems in the northern province of Shaanxi.
Health Ministry spokesman Mao Qun'an said China was cooperating fully with the international community on swine flu and said foreign reports suggesting Chinese pigs was the origin of the outbreak, which has turned deadly in Mexico, were made "regardless of truth and scientific common sense."
"No human cases have been found in China, nor has the virus been found in the country's pigs," Mao said in a statement posted on the ministry's website.
State media on Tuesday quoted Premier Wen Jiabao as saying at an emergency meeting of the State Council, China's cabinet, that the government must be "highly vigilant" against swine flu and report any cases promptly.
The State Council ordered the use of a "direct reporting system featuring early discovery, early reporting, early diagnosis, early quarantine and early treatment."
The comments followed international criticism of China for a lack of transparency in reporting cases in 2003 of severe acute respiratory syndrome, or SARS, which originated in China and went on to kill 775 people worldwide.