China confirms bird flu outbreak in Tibet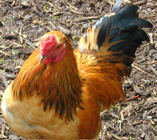 New Delhi, Apr. 8 : China's Ministry of Agriculture (MOA) has confirmed an outbreak of bird flu at a farm in a Tibet Autonomous Region village.
The testing of 268 dead chickens at a farm at Zhuba Village of Qamdo County in recent days revealed H5N1 bird flu killed them, the Xinhua news agency quoted authorities at the National Bird Flu Reference Laboratory, as saying.
On Friday, Tibet's major animal disease prevention and control headquarter office reported the epidemic to the ministry.
Along with the local government, the ministry immediately started emergency plans.
The disease had previously been under control, the ministry said.
The latest outbreak was the sixth among poultry this year.
On Thursday, the ministry lifted a bird flu quarantine in the southern city of Guangzhou after no new cases were reported for 21 days.
At least 632 fowl were culled after an outbreak of the H5N1 bird flu virus on March 13 in Liwan District, Guangzhou, capital of Guangdong Province.
The ministry urged local authorities to step up supervision and prevention measures and raise public awareness to prevent new outbreaks.
Besides Guangdong, other outbreaks included one in the northwestern Xinjiang Uygur Autonomous Region, two in the southwestern Tibet Autonomous Region and another in the southwestern Guizhou Province.
Bird flu, or avian influenza, is a contagious disease of animal origin caused by viruses that normally infect only birds and, less commonly, pigs. It can also kill humans.
To curb human infections, China's food and drug regulators on Wednesday authorized a domestic pharmaceutical firm to begin commercial production of a human bird flu vaccine, after more than two years of clinical trials.
This step made China the second country with the technology and industrial capacity to produce such a vaccine.
The MOA last month warned China faced a more "complicated" epidemic control situation this year with an increase in reported cases.
The disease was also spreading in other countries. (ANI)