Cashew nuts crops popular in Tripura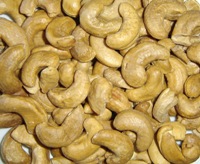 Agartala, Feb. 3 : Many farmers in west Tripura are taking to growing cashew nut, as it offers better prospects to earn bigger profits.
Farmers get good returns for their produce. The ''Maa Tara Cashew Processing Industry'' initiated by Parimal Chanda Saha has been encouraging.
The unit has given employment to over a hundred people. Ninety-five per cent of them are rural women coming from the lowest strata of the society.
"I noticed that the cashew produced here in Tripura gets almost wasted so I though of setting a processing industry by which the farmers shall be benefited and at the same time rural people shall also get employment. With little financial help from the government of India this unit has been set up and I intend to make it bigger as we have raw material (Cashew nut) here," said Parimal Chanda Saha, the owner of the Parimal Chanda Saha, the owner of Maa Tara Cashew Processing Industry.
"I learnt this work in Midnapur (in West Bengal) and before I came here the people knew nothing about processing of cashew nut and most of the cashews produced here were wasted. But now due to the installation of this factory not only the cashew is being utilized but it is also a source of income for hundreds of poor village women," said Joy Krishna Pradhan, Quality controller
"Earlier, we had no work. But with the opening of the factory we got an income source as we got employment here. Our income is around rupees 1,000 a month, which helps in meeting the expenses of our families. We also have provident fund of 12 percent. We are 100 women here and we are very happy as the factory is a source of income for rural women like us," said Jyoti Banik, one of the workers.
Seeing the potential of this factory, more cashew nut processing units have come up in the state. Over 300 farmers also plan to double the area under cashew soon to meet the demands of the existing cashew processing factories.
Today, Tripura is fast emerging as a cashew nut producing state, contributing 4000 metric tonnes of country's total 800,000 metric tonnes cashew kernels in a year.
Besides improving the productivity and quality of produce, marketing of such agricultural commodities has helped thousands of farmers obtain good prices. (ANI)