Case Against Haneef About To Unravel - Lawyer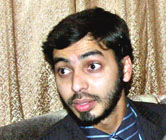 Melbourne: According to a top independent legal expert that the resolution of Australia's Director of Public Prosecutions to assess the case against the apprehended Indian doctor Mohammed Haneef advised that the lawsuit was about to disintegrate
While commenting on the decision of Damian Bugg, the ex-chairman of the National Crime Authority, Peter Faris stated, "This is the end of the case against Haneef."
Dr. Haneef has been charged with irresponsibly backing up a terrorist group.
"I have no doubt that the reasons that Mr. Bugg has intervened are to find a way out of the impasse that the DPP finds itself in which is, to put it bluntly, they have no case," Mr. Faris said.
"I would be fairly confident ... that the charges will be dropped probably tomorrow [Friday], if not tomorrow, Monday," he stated.
'Repeated bungling'
Mr. Faris alleged the case was beset by frequent "bungling" by the Australian Federal Police detectives and the incapability of the DPP to act against terrorism cases.
He called for the resignation of Mr. Bugg and AFP Commissioner Mick Keelty.
Mr. Faris stated, "Both organizations have failed the Australian public very badly. I think heads should roll and I think it's really got to be Keelty... and Bugg. They knew what was going on, they've let it fall into this mess and they are responsible."