Buy Apollo Tyres To Achieve Intraday Target Of Rs 74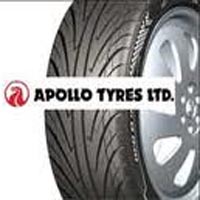 Technical analyst Anil Singhvi has maintained 'buy' rating on Apollo Tyres Limited stock with an intraday target of Rs 74.
According to analyst, the stock of the company can be bought with a stop loss of Rs 68.
The shares of the company, on March 15, closed at Rs 69.10 on the Bombay Stock Exchange (BSE).
The share price has seen a 52-week high of Rs 88.80 and a low of Rs 46.35 on BSE.
Current EPS & P/E ratio stood at 4.93 and 14.32 respectively.
On March 15, rubber futures dropped for a straight third day, slipping to the lowest degree in over four months, amid worry that the tragedy in Japan will impair demand from auto manufacturers in the world's third-biggest economic system.
Scrips of all tyre makers gained as global natural rubber costs declined following the tremor and Tsunami in Japan.
The company is among the first few in India to go on 'flat mode'.
The company has opted for a four-tier flat organizational configuration for its high-tech plant at Oragadam.
An idea of its Vice-Chairman and MD Neeraj Kanwar, the 'flat initiative' at Oragadam is a result of the effectuality of a flat structure at Apollo Vredestein BV, its division in the Netherlands.
The Oragadam plant has 4 layers including group members, group leaders plus unit chief.
"In terms of career progression, this translates into roles which mature and expand horizontally," according to Tapan Mitra, Chief of Human Resources at Apollo Tyres.
"This allows employees to gain multi-disciplinary and cross-functional experience through job rotation, be it intra or inter-departmental," he added.