British, French foreign ministers meet Sri Lankan leaders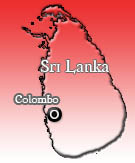 Colombo- The foreign ministers of Britain and France met with their Sri Lankan counterpart Wednesday amid protests from Buddhist monks calling for an end to foreign interference in Colombo's war against Tamil separatist rebels in the north-east of the country. British Foreign Minister David Miliband and his French counterpart, Bernard Kouchner, met behind closed doors with Sri Lankan Foreign Minister Rohitha Bogollagama and were due to meet President Mahinda Rajapaksa later in the day before visiting refugee camps in the Vavuniya area, 254 kilometres north of Colombo.
Their visit came after the European Union called Monday for an immediate ceasefire in Sri Lanka to allow civilians to leave the combat zone amid reports of civilian casualties.
A group of monks led protestors outside the British High Commission in Colombo, demonstrating against the visiting ministers. One of the monks who is also a member of parliament backing Rajapaksa's party conducted a fast opposite the British High Commission building.
Predominantly Buddhist Sinhalese make up about 73 per cent of Sri Lanka's population while predominantly Hindu Tamils comprise about 18 per cent.
Swedish Foreign Minister Carl Bildt, who was due to accompany the European ministers, said he was denied an entry visa by the Sri Lankan government, a claim rejected by Bogollagama, who said Bildt did not apply for a visa.
The foreign ministers' one-day visit came as government troops continued fighting in the north-east to recapture the final land held by the rebel Liberation Tigers of Tamil Eelam (LTTE). Up to 50,000 civilians are trapped in the coastal area of Mullaitivu, 395 kilometres north-east of Colombo.
In a related development, a navy spokesman said government forces destroyed six boats carrying rebels, including four suicide craft, killing at least 25 guerillas Wednesday off Mullaitivu.
Two days ago, the government vowed to halt the use of heavy weapons in combat operations to allow civilians trapped in the combat zone to flee.
The LTTE and the civilians are confined to an area of about 6 square kilometres. The civilians are believed to face severe food and medicine shortages as no aid shipments have reached the area since April 2.
Military officials said they are in the final phase of a campaign to crush the rebels, who have been fighting for an independent homeland for Tamils for the past 25 years.(dpa)