Branding is a key word in Bollywood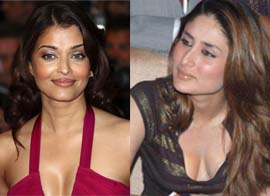 Kareena Kapoor and Aishwarya Rai are perfect examples of being famous for their flops. Kareena Kapoor has had it easy, literally. It hasn't exactly been a rough ride for the Kapoor babe from Day One itself. Even though she left the blockbuster role of female lead in Kaho Naa... Pyaar Hai against macho Hrithik Roshan to Ameesha Patel, she managed to garner much more publicity for her flop debut, Refugee, than what Ameesha did for her superhit starter. And that was the beginning of a new mantra to market a diva — hit or no hit, the Brand has to hit the headlines.
And it was this very marketing mantra which saw the rise, rise and only rise for Kareena Kapoor. Even after a spate of flops like Asoka, Yaadein, Mujhse Dosti Karoge!, Jeena Sirf Tere Liya, etc the youngest Kapoor kid saw all the big names from Karan Johar to Yash Chopra to Mani Ratnam and Boney Kapoor vying for her attention. Film after film flopped, but nothing changed much for Bebo. She continued to demand very high rates, which paradoxically kept rising with each flop!
And following in her footsteps closely was none other than our very own grey-green eyed goddess, Aishwarya Rai who, in spite of not having given a single hit in the start of her career for very long hit the jackpot with Hum Dil De Chuke Sanam and is the most 'sought-after' Bollywood actress today.
So, this is the Bebo-Ash blockbuster story. What is it that makes the two divas eligible for the big league which otherwise has names like Rani Mukherjee, Preity Zinta and Priyanka Chopra who, by now, must have lost count of their hit films? "Both Ash and Bebo have class. I know them closely. They have talent as well as beauty, and I guess this combination is more than enough to please the audience. At the same time, one must not forget that Ash is a big international star," asserts Showman Subhash Ghai who has earlier directed Ash in Taal and has done as many as three films with Kareena.
Film critic Indu Mirani punches in a more logical explanation to this unique phenomenon. "I think Aishwarya and Kareena are totally different girls as far as personality and presentation go. But their careers are similar in the sense that they have got all the good stuff in spite of not having hit films. I think it's because there are very few actually hot leading ladies in the industry today. Rani, Preity and Priyanka cannot take up all the roles, right? There are very few A-grade heroines. And these two girls know how to present themselves. They are also very media-savvy and hence it has been easy for them," she says.
But why isn't it easy for other talented good-looking girls too as, say, Lara Dutta? Why hasn't she matched up to this grade? "Kareena, of course, is a pedigreed girl. She has been lucky as she belongs to the Kapoor Khaandaan. She also had her sister Karisma, a superstar in her own right. For Ash, I think it's more of media hype with her scintillating beauty helping in a big way." explains Mirani.
And if we throw back a look, this trend doesn't seem to be very new. There are examples in the past also where artistes, even though they hadn't given a single hit, had dozens of movies in their kitty. For example, in the 80s, the pinup girl of that time, Sonam, had close to 40 films in her kitty even before her first film was out for review! Similar was the case with Chunky Panday who, apart from Aankhen with Govinda, has no film to be remember him by. But he was one of the hottest dial-a-quote stars of late 80s.
Production designer Bindiya Dutta, wife of filmmaker JP Dutta, and herself hyped as a Hema Malini clone in her heyday, has had the experience of working with Ash and Bebo; and sums it up. "For us, hits and flops are inconsequential. We are only here to do good work and definitely we choose our leading ladies according to what they suit best. Like Refugee wouldn't have been the same without Kareena and Umrao Jaan without Ash was unimaginable."
What a hit explanation! Branding, anyone? -Sampurn Media