Boeing starts fixing problematic Dreamliners
Submitted by Neha Malik on Mon, 04/22/2013 - 18:21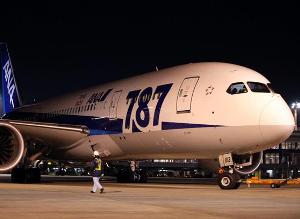 All Nippon Airways' five grounded 787 Dreamliner jets are now expected to be ready to fly again in around a week as Boeing Co has started the process of installing revamped lithium-ion batteries on the problematic jets.
A total of 50 Dreamliners were grounded in mid January after the U. S. Federal Aviation Administration (FAA) and other regulators ordered their owners to stops flying these jets after a series of issues erupted in their battery systems.
Japan's All Nippon Airways has a total of 17 Dreamliners, which makes it the world's largest operator of the carbon-composite aircrafts.
Ryosei Nomura, a spokesperson for All Nippon Airways, announced on Monday morning that a team of Boeing engineers had started installing revamped batteries in the jets, and the work should be completed withn a week.
Air India, which owns six Dreamliners, is also hopeful that its grounded carbon-composite aircrafts could resume operations by mid of May.
An official from India's Civil Aviation Ministry revealed that a 20-member technical team from Boeing would reach India on Sunday to work on revamping of problematic batteries from Monday. Speaking on the topic, the official added, "If all goes according to the plan, the Dreamliners could be back in operation by middle of next month."
The grounding of Dreamliners has so far cost Boeing Co nearly $600 million.