Baitullah Mehsud is West's new public enemy No1
London, Feb. 6: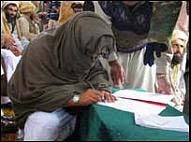 Thirty-four-year-old Pakistan Taliban leader Baitullah Mehsud has replaced Osama bin Laden as the West's Public Enemy No 1.
According to a report in The Times, Mehsud is now being seen as the most significant non-state threat to global security to have emerged in the past 12 months.
Nigel Inkster, a former deputy chief of the British Secret Intelligence Service (MI6), was quoted by the paper as saying that neo-Taleban led by Mehsud were suspected of having been involved in terrorist plots in Britain and Spain.
The revelation that the most extreme elements of the Taleban in Pakistan had turned their focus towards the West and foreign forces in Afghanistan followed claims by President Bush last year that the Taleban posed a global threat. His remark was dismissed largely in Europe.
Inkster was speaking at the release of The Military Balance, an annual publication of the International Institute for Strategic Studies (IISS), of which he is director of trans-national threats and political risk.
Mehsud, who has been branded a senior al-Qaeda terrorist by the Pakistani authorities, lives in South Waziristan, a remote tribal region that borders Afghanistan. He is considered by Pakistani security and intelligence services to be a main suspect in the assassination of Benazir Bhutto in December. (ANI)