Aventon's Aventure e-bike's robust performance makes it well suited for off-road riding on any terrain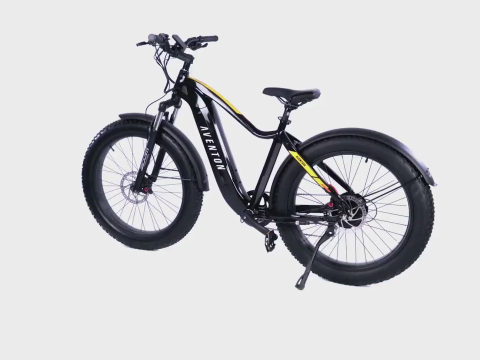 Los Angeles-headquartered electric bike (e-bike) manufacturer Aventon's versatile and powerful Aventure fat-tire e-bike sports a rugged build and a powerful motor that make it well suited for off-road riding on almost any terrain.
Available with a retail price of just under US$2,000, the Aventure e-bike comes equipped with a 750 W continuous-rated (1,130W peak) rear-geared hub motor that draws energy from a 48V 15Ah (720Wh) battery.
It is capable of hitting a top speed of 28 miles per hour, which is not bad for an e-bike. The manufacturer positioned the electric motor on the rear hub, ensuring a nice and sleek frame. It may make onlookers to overlook the fact that it is an e-bike. The manufacturer has even equipped it with a thumb throttle that promises a top speed of 20 miles per hour. Throttle range has been reported at 27 miles (roughly 43 km), while pedal assist range has been reported 19-53 miles (roughly 30-85 km).
When it comes to range, the 720 Watt-hour battery stores enough power to deliver a range of around 45 miles on a single charge. To get fully replenished, the battery takes 5 hours.
The fat-tire e-bike gets a hardtail frame, which means it lacks a rear suspension system. However, its massive 4-inch cross-section tires make up for it by offering a plusher ride. Up front, the e-bike gets an 80mm suspension fork. The frame also allows for an array of additional gear to be installed, such as cargo racks can be installed both at the front and rear to increase the e-bike's practicality as well as versatility.
The braking system of the new e-bike consist Bengal Ares 3 hydraulic disc brakes with 180 mm rotors. It is powerful enough to bring the e-bike safely to an instant halt.
The list of extras includes Color LCD display complete with speedometer, wattmeter, odometer, battery gauge, tripmeter, and PAS level indicator. The manufacturer has also equipped the e-bike with a USB charger, thumb throttle, front & rear fenders, optional front as well as rear rack, and integrated headlight and tail light
Other than the few fancy features that have been mentioned above, the Aventure e-bike brings pretty much what one can expect from a good quality fat tire e-bike. Loaded with all those attractive features, the e-bike is undoubtedly worth its price of $1,899.