Audi A3 named 2014 'World Car of Year'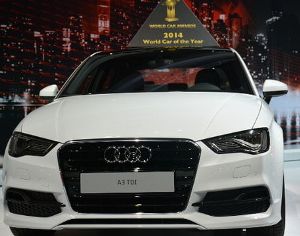 Melbourne, April 18 - Audi A3 has been named the 2014 ' World Car of the Year' after being voted by 69 jurors from 22 countries at the New York Motor Show.
The Audi A3, which beat Mazda3 from Japan to win the title, was among five German cars that won in different categories making it Audi's second win in 10 years, News. co. au reported.
Audi's North America president Scott Keogh exclaimed that Audi A3 has only been on sale three weeks and already it's "off to a flying start" and Rupert Stadler, Chairman of the Board of Management of Audi added that the major award win is an achievement for the whole company.
BMW i3 electric car won the 'Green Car of the Year' and the 'Car Design of the Year', followed by Porsche 911 GT3 which bagged the 'Performance Car of the Year' award and Mercedes-Benz S-Class, which claimed the 'Luxury Car of the Year' award. (ANI)