Aptera to use EVE Energy's lithium ion battery cells for its 1,000-mile Solar EV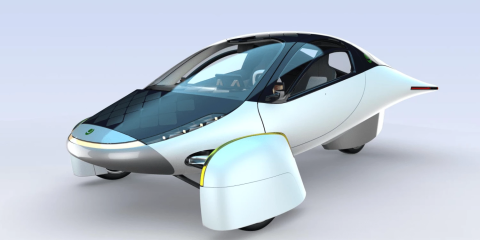 American electric vehicle (EV) startup Aptera Motors has announced that it will use EVE Energy's lithium ion battery cells to power its unique lightweight three-wheeler Solar Electric Vehicle (SEV).
The San Diego, California startup said that it picked EVE Energy as supplier of lithium ion battery cells for its SEV because they are compatible with its efficiency-first ethos. More specifically, Aptera will utilize EVE Energy's 21700 NMC 811 cylindrical cells in its SEV's structural battery packs.
According to EVE Energy's claims, the 21700 NMC 811 cylindrical cells can be counted among the lightest as well as most energy-dense battery cells available in the market. The lightweight battery cells will help Aptera in building an ultra lightweight electric vehicle capable of high performance and longer range with relatively less battery mass.
Announcing the collaboration, Aptera said in a statement that it's an honor for the startup to work with yet another highly reputed leading supplier of efficient battery cells.
In the newly released statement, Aptera added, "It's an honor to work with yet another leading supplier with an impeccable reputation and product to match. The decision to move forward with lithium ion 21700 NMC 811 cylindrical cells enables us to maximize efficiency in Apterae capable of over 1,000 miles of range per charge."
The company further added that the partnership with EVE Energy represented all that its team members have accomplished while moving ahead to promote solar mobility.
Founded nearly a couple of decades ago, EVE uses lithium-based chemistries to fabricate a range of battery cells, including lithium primary batteries, 18650/21700/46950 series cylindrical cells, large format prismatic LFP/NMC cells, and li-ion rechargeable pouch cells. The company describes itself a world leading lithium battery manufacturer that uses its core technology and solutions for power, IoT, EV, and energy storage system applications.
The battery supply deal with EVE Energy comes around a week after the SEV startup hit another strategic deal with Slovenia's Elaphe for the supply of in-wheel electric motors for the upcoming solar energy-powered vehicle.
Listed on the startup's official website with a starting price tag of $25,900 for the base battery pack, the Aptera SEV claims to have a targeted range of up to 1,000 miles (slightly more than 1,600 kilometers) on a single charge. As of May 2022, the startup received nearly 22,000 reservations for the SEV.