Apple's spaceship-like headquarters hit by construction delays
Submitted by Mitra Pathak on Thu, 11/22/2012 - 17:38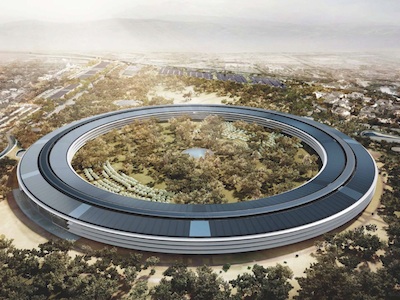 On November 14, Apple submitted - to the city of Cupertino, California - its updated project proposal for the construction of its new spaceship-like headquarters called Campus 2; and revealed that the revised construction plan for the new Apple offices underscores a mid-2016 timeline for the completion of construction.
Despite the fact that the revised project submission by Apple is chiefly the same as the company's June 2011-filed original project submission for Campus 2, the updated submission estimates mid-2016 as the revised construction timeline; noting that the environmental impact study of the site will apparently lead to completion delays.
With the environmental impact report likely to be completed by June next year, as per the current estimates, Cupertino city manager David Brandt has revealed that, "if everything goes smoothly," Apple could "conceivably" break ground on its new 176-acre campus in 2013. However, it appears quite likely that Apple may not be able to begin the construction till 2014.
Since Apple had earlier mentioned in its original project plan that it was projecting a 2015 timeline for moving into its futuristic-looking "spaceship campus", the updated project submission makes it quite evident that the construction of the project has been hit by delays.
Noting that there is "nothing super-significant" in Apple's revised project submission, Brandt said that none of the mentioned changes had been requested by Cupertino city; and added: "I think they (Apple) are just constantly trying to improve the project."