Anonymous Call Claiming To Have Terrorists On Flight Received By Indigo Airlines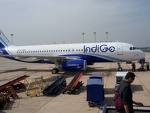 On Monday, the Indigo Airlines had to undergo some unnecessary tension, following a call from an anonymous person, who said that three persons traveling in its flight to Agartala from Kolkata are terrorists. Thus a security operation was initiated.
The police sources reveal, "The anonymous caller gave the names of the three alleged terrorists who were among the passengers on the flight which was supposed to leave at 6.30 am."
Following the call, the passengers' list was thoroughly checked by the airline and also discovered the names of the three persons who the unknown caller referred to as terrorists.
After this, these three persons, who actually were a part of a 20-member dance troupe were called off the aircraft, following their bag gages were carefully checked. Meanwhile, the flight left for Agartala leaving the three behind.
After finding nothing, the airline and security agencies let off the three persons.
These three persons were released when nothing could be discovered from their belongings. However, the agitated persons filed a complaint at the Airport police station claiming that the call was a set up to stop them from going to Agartala. The matter is now being investigated by the police.