All-electric BYD Seal introduced with CTB structural battery & attractive pricing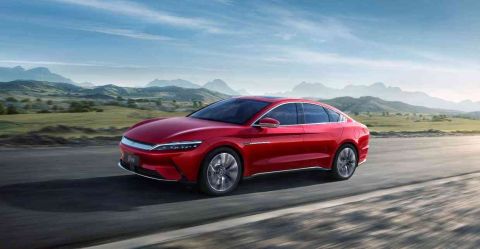 Chinese automaker BYD Limited recently introduced the world to its all-new Seal model, which has specifically designed to serve as one of the main competitors to the Tesla Model 3 electric sedan in China.
Based on the company's EV-dedicated e-platform 3.0, the BYD Seal comes loaded with significant new technologies, such as cell-to-body (CTB) structural battery system. The CTB structural battery system utilizes four sections of the BYD Blade Battery, which aren't only combined without modules but also become a structural element of the whole vehicle. As per BYD, the new CTB battery increases utilization of battery pack volume by 66%. In addition, it increases structural safety in case of a frontal crash.
The BYD Dolphin and the new BYD Yuan Plus are also based on the e-platform 3.0, but the Seal boasts more sophisticated technologies. Introducing the BYD Seal, the Chinese automaker also revealed their basic specs and prices. The BYD Seal is available for pre-orders in a total of four different versions: Standard Range RWD Elite, Standard Range RWD Premium, Long Range RWD, and Long Range AWD Performance.
The Standard Range RWD Elite is available for post-subsidy price of 212,800 CNY (US$31,795). Its system output and CLTC range have been rated at 150 kW and 550 km (342 miles), respectively.
The Standard Range RWD Premium has been priced (post-subsidy) at 225,800 CNY (US$33,738). It has the same system output and range as that of the RWD Elite version.
The Long Range RWD and AWD Performance versions are available with price tags of 262,800 CNY (US$39,266) and 289,800 CNY ($43,300). CLTC ranges of these two EVs have been reported at 700 km (435 miles) and 650 km (404 miles); while their system outputs are 230 kW and 39 kW, respectively. The Long Range AWD Performance is quite fast, with the ability to accelerate from 0 to 100 km/h (62 mph) in just 3.8 seconds.
When it comes to charging, the Standard Range RWD Elite and Standard Range RWD Premium allows DC fast charging with 30-80% SOC in just 30 minutes at up to 110 kW. The Long Range RWD and Long Range AWD Performance allow DC fast charging with 30-80% SOC in 30 minutes at up to 150 kW.
The blend of eye-catching design and high-tech specs along with attractive prices makes the BYD Seal very competitive. According to the manufacturer's claims, more than 22,600 units were pre-ordered within seven hours after the EV's official launch.