Afghan leader asks armed groups to halt operations for "Peace Day"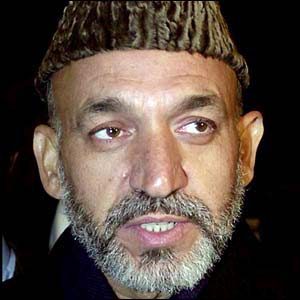 Kabul- Afghan President Hamid Karzai called on Afghan and international forces and Taliban militants to halt clashes over the weekend to respect the United Nations-backed Peace Day.
Karzai's order was aired by Afghan TVs and radio in which he asked Afghan forces to avoid using weapons unless attacked by the Taliban militants, who have waged a bloody insurgency in the country since their ouster in late 2001.
The president also asked some 70,000 international forces to observe the day, while calling on Taliban militants to "stop destroying your country" and join the peace process in the country.
General David McKiernan, Commander for NATO-led International Security Assistance Force (ISAF) also said that he had instructed the multi-national forces to refrain from offensive operations against insurgents from midnight on Saturday 20 September until midnight on 21 September.
"The insurgents must be in no doubt that ISAF will defend itself and the people of Afghanistan from offensive action by the enemies of Afghanistan," the commander said in a statement.
"This has been agreed by the Government of Afghanistan and ISAF as a show of their mutual intent to bring peace to Afghanistan and an end to the insurgency that threatens to undermine the future peace and prosperity of the Afghan nation," added.
Sunday marks the 26th anniversary of the International Day of Peace, a UN-backed push for a day of nonviolence and global cease-fire.
"On 21 September, the International Day of Peace, I call on world leaders and peoples around the world to join forces against conflict, poverty and hunger, and for all human rights for all," UN Secretary General said in a statement issued by the UN mission in Kabul.
To honour the day the UN office in Afghanistan hopes to vaccinate 1.8 million Afghan children in a three-day campaign starting on Sunday.
A Taliban spokesman, Qari Mohammad Yousif Ahmadi also said that their militants were instructed by the movement's leadership council to respect Peace Day.
"We always want the peace, but these invaders have come and attack us in our own country," he told Deutsche Presse-Agentur dpa by phone from an undisclosed location.
"All our mujahideen have been informed and they will respect the order of the leadership," he added. (dpa)