35-mn-year-old fossil raises questions on primates' origin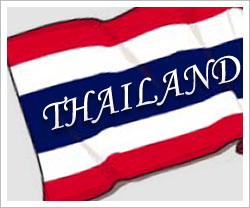 Bangkok, Jan 7 - A 35-million-year-old primate fossil found in southern Thailand has added to evidence that primates, which include humans, might have originated in Asia rather than Africa, Thai media reports said Thursday.
Adisak Thiongkhaimuk, the director general of Thailand's Mineral Resources Department, confirmed Wednesday that fossils of a primate's right jaw found in an abandoned coal mine in Krabi province belonged to a gibbon-like primate that roamed the earth about 35 million years ago, The Nation newspaper reported.
The announcement was made to mark the department's 118th anniversary.
Confirmation of the age of the Siamopithecus eocaenus fossils was published in the scientific journal Anatomical Record in November. A previous piece of jawbone of inferior quality was discovered in 1994, leading to the recording of the Siam ape as a new primate species in Nature Magazine in 1995.
Thai archaeologists have collaborated with experts from France and Switzerland to study and date a new fossil found in 1996, which has confirmed its age at 35 million years.
"These are the most perfect pieces of primate fossil we've found in the country so far," said Yaowalak Chaimanee, the department's fossil expert.
Yaowalak told The Nation that the discovery proved simians - which include monkeys, apes and humans - originated and evolved in Asia.
The oldest primate fossil found in Africa is 32 million years old. (dpa)