2023 Cadillac Lyriq AWD capable of producing 500 hp & towing 3,500 pounds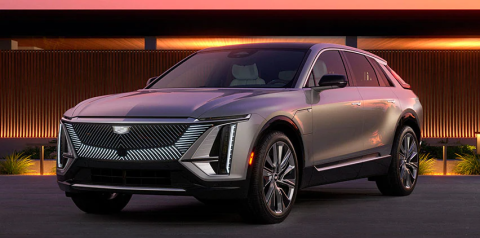 Cadillac, a division of the American automobile manufacturer General Motors, has revealed more about specs of its very first all-electric production SUV, including the all wheel drive (AWD) model's horsepower (hp) rating.
Equipped with a dual-motor system, the upcoming Cadillac Lyriq will deliver an estimated 500 hp, which is the equivalent of roughly 373 kilowatts. The figures represent a significant boost over the rear wheel drive (RWD) Lyriq's 340 hp or 254 kilowatts. The boosted power also puts the Lyriq AWD model on edge over competitors like the Tesla Model Y Performance, Mustang Mach-E GT, and Audi e-tron S, which produce around 480 hp, the 480 hp and 470 hp, respectively.
The luxury vehicle division of GM also announced a more exact driving range estimate for the Lyriq RWD: 312 miles (roughly 502.1 km) on a single charge.
The manufacturer didn't reveal the torque rating of the dual motor version of the Cadillac Lyriq electric SUV, but it confirmed that the single motor version will produce 325 lb-ft (440 Nm) of torque. No performance specs of the EV have been announced yet, but it can be taken for guaranteed that the AWD model will take less time to sprint than the less powerful RWD version of the SUV.
However, it can be safely assumed that the Cadillac Lyriq AWD version will come with a lower range rating if it comes equipped with the same Ultium 100-kWh (usable capacity) battery pack as the entry-level model. The luxury brand also revealed the towing rating of the AWD model of the SUV: up to 3,500 pounds (1,587 kilograms). The Tesla Model Y also comes with the same towing capacity.
Cadillac will initially build only the single-motor Lyriq Debut Edition of the electric SUV, and it will be available only in silver or black colors. The company won't offer too many optional extras. The single-motor Lyriq Debut Edition will feature a standard full glass roof with a fixed design. A power shade will be there to to block out the sun whenever required. Actually, this feature will come standard across the entire 2023 Lyriq lineup.
Deliveries of the Debut Edition of the Cadillac Lyriq will start sometime this summer, with additional models scheduled to be rolled out by the end of third quarter of 2022. As the starting price of the RWD model has been set at $59,990, the AWD model is bound to cost considerably more.