15 percent of US teens engage in 'sexting': study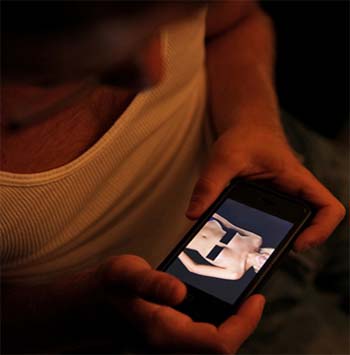 Los Angeles, Dec 17 - An estimated 15 percent of American teenagers have received nude or sexually suggestive photographs on their cell phones, according to a study Wednesday by the Pew Internet and American Life Project.
The study about the tech-fueled trend called "sexting" said that boys are as likely as girls to send "sexts," while teens who pay for their own cell phone bills are more likely to text salacious shots.
The study of 800 teens found that just 4 percent of 12- to 17-year-olds admitting to sexting photos or videos of themselves. About 8 percent of 17-year-olds sent sexts and 30 percent received them, the report found.
Teenage sexting usually is done as part of a relationship or would-be relationship between teens, the Pew focus groups found. However, those messages are often forwarded to people outside the relationship, especially after a breakup.
"It doesn't take that many people creating these images for a lot of people to see them," said Amanda Lenhart, a senior research specialist at the Pew project and author of the report.
But researchers said the study still indicates sexting, which could lead to other problems such as cyber bullying, has become part of the fabric of modern teenage life. About 75 percent of US teenagers have cell phones and 66 percent of them send text
messages, Pew said.
"Kids have experience with it," said Lenhart. "It's something they have to deal with and talk about in their lives." (dpa)