Williams reveals picture of ankle injury she endured during hotheaded Oz Open defeat
Submitted by Sukhdeep Grewal on Sat, 01/26/2013 - 21:53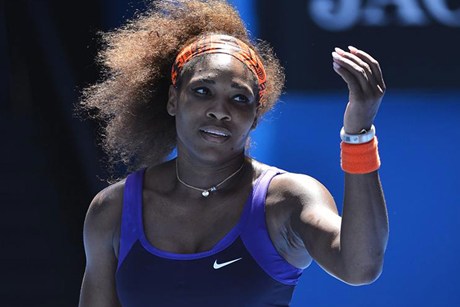 London, Jan 26  : Serena Williams has revealed a picture of the ankle injury she endured during her hotheaded Australian Open quarterfinal defeat at the hands of teenager Sloane Stephens.
When 15-Grand Slam winner, Serena Williams, smashed her racket in anger at losing to a U. S. teenager in the Australian Open, eyebrows were raised about the tennis star''s sudden lack of sportsmanship, the Daily Mail reports.
Early this morning Williams posted a picture of her hugely swollen right ankle on Twitter, which was of an injury she picked up in her first round match and aggravated in her three-set loss to Stephens, the paper added.
The tennis ace also went on to suffer a back injury in the match against the upcoming 19-year-old fellow American, the paper said.
So when Serena was caught on a courtside microphone muttering the contest had been `the worst two weeks' and she was ultimately fined 1,500 dollars for smashing her racket Serena was outplayed by the 19-year-old in the quarter-finals losing 6-3, 5-7, 4-6, and it appears she wasn''t making up her misery just to save face following her first loss since August 17, the paper concluded. (ANI)