Venezuela's Chavez praises close relations with Belarus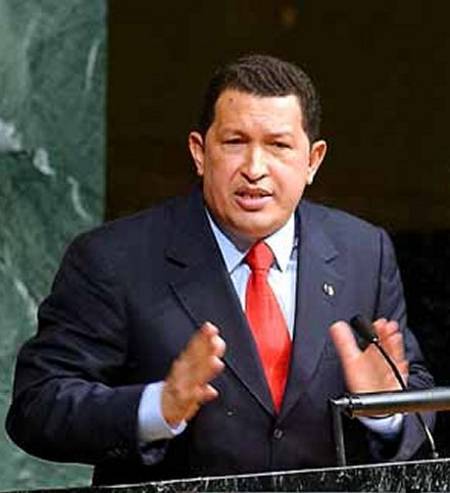 Minsk  - Venezuelan President Hugo Chavez praised his country's close relations with authoritarian Belarus, state- controlled media in the former Soviet republic reported Wednesday.
"There is no limit to our integration!" Chavez said, at a televised meeting with Belarusian President Lukashenko.
Chavez and a Venezuelan delegation arrived in Belarus late Tuesday for a two-day working visit.
The Venezuelan leader, an outspoken critic of US foreign policy, was in the capital Minsk on the third stop of an 11-day foreign tour which has already taken him to Italy, Iran, and Turkmenistan. He was scheduled to travel to Moscow next.
During a televised meeting, Lukashenko and Chavez smiled and shook hands in a chamber of the Zaslavl residence, a former Tsarist-era palace now used for formal receptions by the Belarusian President.
Chavez and Lukashenko, speaking later to reporters, referred to each other with an informal grammatical form of the word "you" in both Spanish and Russian - practically unprecedented public familiarity for the normally straight-laced Belarusian leader.
Lukashenko, often in conflict with major Western nations over his use of Soviet police tactics to repress dissent, praised increasing economic cooperation between Belarus and Venezuela, singling out a 2008 energy deal as "our greatest success."
Chavez and Lukashenko last year announced an oil and gas joint venture with Belarusian technicians to develop Venezuelan fields.
The company, with Belarus' Belarusneft' and Venezuela's Petroler BeloVenesolana participating as equal partners, is profitable and already has brought more than 1 million tons of crude oil (7.3 million BBL) to market since its founding, Lukashenko said.
The joint venture is also performing seismic logging work, as well as production, he said.
Areas of high potential economic cooperation between the two countries include Belarusian export of chemicals and construction materials, as well as automotive, high-tech, and farm machinery, Lukasheko said.
Chavez was scheduled on Wednesday to tour a Minsk auto factory, and a lorry plant.
"We are very obliged to the Venezuelan people and their government," Lukashenko said. "We thank them for their assistance, including financial aid."
An announcer on Bel-1, the Belarusian national television channel, described Chavez as "our old friend."
Chavez has visited Belarus annually since 2006. The most controversial trade deal between the two countries came in 2008, when Chavez purchased Belarusian night-vision devices for Venezuela's military.
Venezuela has in recent years become one of Belarus' most important trading partners, with Venezuelan imports of Belarusian good almost doubling from 2008 to 2009. Belarusian imports from Venezuela are negligible.(dpa)