Underground "meditation" in Uttar Pradesh
Farrukhabad, Feb. 6: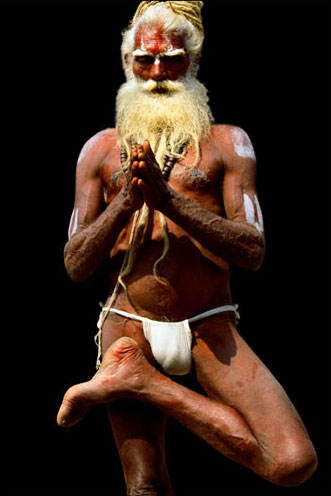 Ascetics in India have long been known for performing various dare-devil acts by developing self-control through Yoga. But in Uttar Pradesh a man has gone underground in a pit to 'meditate' for a week.
Ram Bhakt Das will stay inside the pit that has been covered with a wooden slab and further covered with mud from the top.
While entering the pit on Sunday (Feb. 3), Ram Bhakt Das claimed that he will stay without food, water or fresh air. He would stay inside sitting in a meditation posture for rest of the week and will come out only on Saturday (Feb. 9).
Hailing from Ganga Ghat Village in State's Farrukhabad district, the 55-year-old has drawn a big attention of the religious-minded here.
Ram Bhakt Das told that he was undertaking the Samadhi (a state of meditation) as a part of his Yog Sadhna (Yoga exercise).
"Man arrives on this earth and undergoes several kinds of experiences in his lifetime. Once he dies, there is no more fear of death for him. The same way when we, the holy men, undertake Samadhis, we turn fearless of all fears," said Ram Bhakt Das, the ascetic.
His admirers are hopeful that Baba Ram Bhakt Das will come out safe and sound, as he is said to have done it earlier on two occasions for two and four days respectively.
Ram Bhakt Das earlier used to forego food and water for quite a few days before taking up Samadhi and survived only on air. He, however, is stated to have told his admirers that during Samadhi he would even stop inhaling oxygen!
"It is not a big deal for our holy men. Though he (Ram Bhakt Das) is going for seven days, I am confidant that even if he takes on Samadhi for 70 days, he would come out safe and sound. We have complete faith in the God." said a follower of Ram Bhakt Das.
On Sunday, Ram Bhakt Das's several followers chanted hymns and offered prayers to God for the successful completion of Samadhi this time around. (ANI)