UAE's Etihad, Spain's Air Europa in codeshare agreement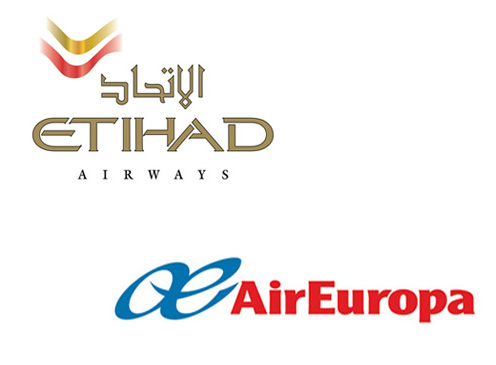 Abu Dhabi, Jan 20 : The United Arab Emirates' (UAE) flag carrier Etihad Airways and Spanish airline Air Europa have signed a codeshare agreement which will see both carriers significantly enhance access to and from Spain, the UAE and to destinations across the globe.
Under the terms of the agreement and subject to regulatory approvals, Air Europa plans to commence a three-times-a-week direct service between Madrid and Abu Dhabi in late 2014.
Etihad Airways will place its EY flight code on the new Airbus A330-operated flights, offering direct access to Madrid for the very first time through its global Abu Dhabi hub.
"We have been keen to offer our customers direct access to the Spanish capital for a number of years, and doing this now in partnership with Air Europa makes perfect business sense.  It is the right thing to do," James Hogan, Etihad Airways' president and chief executive officer, said in a statement Monday.
Juan Jose Hidalgo, Air Europa's president and chief executive officer, said that his airline has chosen Abu Dhabi and Etihad Airways as the gateway to India, China, Australia and other destinations served in the Far East.
"As one of the most important operators to the American continent, especially Central and South America via our hub in Madrid, for Air Europa the agreement between the two airlines is a step forward in a global market," he added.
The two airlines will work together in the run-up to the route launch, with Etihad Airways initially placing its code on Air Europa-operated flights to Madrid from Amsterdam, Brussels and Milan Malpensa and beyond Madrid to Barcelona and Palma de Mallorca.
In return, Air Europa will place its UX flight code on Etihad Airways flights from Amsterdam, Brussels and Milan Malpensa to Abu Dhabi.
Furthermore, during the summer of 2014, both airlines plan to expand the number of code-share destinations to include new cities in Spain and South America via Madrid, and more cities beyond Abu Dhabi across the Gulf region, Africa, Asia, and Australia.(IANS)