Toyota launches cross-over Etios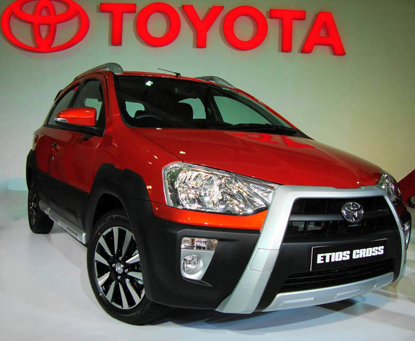 New Delhi, May 7 : Indo-Japanese automobile manufacturer Toyota Kirloskar Motor Wednesday launched Etios Cross -- its first cross-over between a sports utility vehicle (SUV) and a hatchback -- priced between Rs. 5.76 lakh and Rs. 7.40 lakh (ex-showroom Delhi).
"The B-car segment is one of the fastest growing segments in the industry. Segment growth comes along with fast changing customer requirements," Naomi Ishii, managing director, Toyota Kirloskar Motor was quoted in a statement as saying.
"Customers today want a vehicle with unique styling that will make a statement. The Etios Cross has been introduced to cater to these needs."
The petrol-powered version is priced between Rs. 5.76 lakh and Rs. 7.35 lakh, while the diesel-powered variant is priced in the Rs. 6.90 lakh-Rs 7.40 lakh range.
The vehicle is available in two petrol options of 1.5 litre with mileage of 16.78 km per litre and 1.2 litre with mileage of 17.71 km per litre.
The diesel-version is powered by a 1.4 litre D-4D engine with a mileage of 23.59 km per litre.
The new vehicle, unveiled at the 12th Auto Expo in Greater Noida in February, is the new variant in the Etios family which has existing models Etios and Liva.
According to the company, the vehicle which was first launched in Brazil, will also be exported from India.(IANS)