Tata Steel Intraday Buy Call
Submitted by Malini Ranade on Tue, 05/04/2010 - 15:43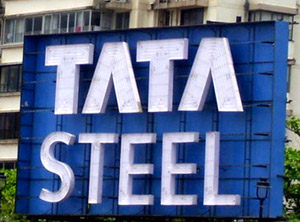 Technical Analyst Rupal Sarogi has maintained 'buy' rating on Tata Steel stock to achieve a target of Rs 620 in 1-2 trading sessions.
According to him, interested traders can purchase the stock with a stop loss of Rs 601.
The shares of the company, on May 03, closed at Rs 608.55 on the Bombay Stock Exchange (BSE). The share price has seen a 52-week high of Rs 538 and a low of Rs 170 on BSE.
Current EPS is -48.57.
Tata Steel, the world's eighth-biggest steel manufacturer, anticipates demand for steel in the country to increase 10 to 12% in 2010/11.
Tata Steel finished the financial year, 2009-10 on a thumping note. The recital of the Jamshedpur Works was excellent.
The company has set an ambitious objective to attain a capacity of 100 million tonne by the year 2015.
Managing Director B. Muthuraman said that of the 100 million tonne, the comapny is planning a 50-50 balance between greenfield facilities and acquirements.
Tata Steel, formerly called TISCO and Tata Iron and Steel Company Ltd, is one of the world's largest steel makers. It is the major private sector steel company in India in terms of domestic production.
Technology Sector