Smith surprised over Strauss not being part in England Twenty20 squad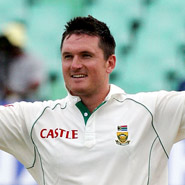 Johannesburg, Nov 13 : South African skipper Graeme Smith has said that he is amazed by England''s Test and 50-over captain Andrew Strauss not being part of the national Twenty20 squad.
Strauss has opted out of T20 cricket to ensure that he remains fresh for the other formats. England will be reluctant to pick him for the opening international against South Africa on Friday.
"It does surprise me. Strauss is in the one-day side, so I guess it''s difficult to work out why he''s not in the T20 team. He''s a leader who is trying to stamp his authority on the environment, so it is interesting why he has decided to take a week off," The Sun quoted Smith, as saying.
"I think it''s going to be difficult for Andy Flower to work with a different captain in Paul Collingwood. Having different views and different outlooks can be tough. Who handles team meetings, who runs the show? They are questions that are difficult for me to answer, but it must be an interesting dynamic within the side," he added.
Strauss, with scores of 72 and 117 not out in his two warm-up games, has been in form so far on tour.
Smith also said that he noted a change in Strauss's behaviour.
"I certainly think Andrew is trying to be a lot sterner and tougher in his ways and maybe he thinks the England environment needs that," he added. (ANI)