'Short tempered' Maradona apologizes after kicking Dubai football club fan
Submitted by Narinder Hans on Sat, 09/24/2011 - 16:23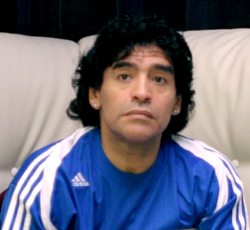 Dubai, Sept 24: Al Wasl football club manager Diego Maradona kicked a fan, who interrupted a pre-match photo session.
The supporter was continuously lifting Maradona's banner to catch his glimpse.
The banner, which was sent to Maradona by his daughters Delma and Giannina, read: `Babu Estoy con vos te amo -Benja,' meaning `Grandfather I love you and I am with you' and was signed by his grandson Benjamin.
Maradona eventually ran out of his patience and kicked his arm, the Telegraph reports.
Maradona, whose action was filmed, later apologised to the fan.
"I am emotional, this is my nature. I've always been like this as a player and coach. Sometimes I feel like I'm a player of Al Wasl," he said.
"The sign was a message from my grandson and daughters in Manchester and Argentina and it means they support me in whatever I do. I apologise to the fan I hurt but I wanted the banner to be seen," he added.
Al Wasl `s 3-0 win over Emirates in the Etisalat Cup is the first win during Maradona's tenure.
Al Wasl had earlier lost two friendly matches and the Etisalat Cup's opening match to Al Jazira.
Maradona has signed a two-year contract as a coach of the Dubai club, Al Wasl. (ANI)
Technology Sector