Settlement deal could be reached by start of UN assembly: Solana
Submitted by Mohit Joshi on Mon, 08/31/2009 - 22:52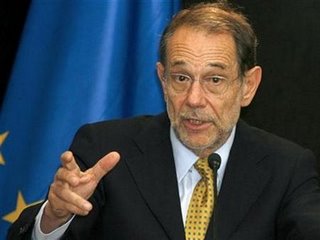 Jerusalem - A deal over a total halt to Israeli settlement construction in the occupied West Bank could be finalized by the start of the United Nations General Assembly in mid-September, European Union foreign policy chief Javier Solana said Monday.
"The positions are getting closer," he told reporters in Jerusalem, adding that he hoped "to arrive at one agreement sufficiently constructive" for a meeting between Israeli Premier Benjamin Netanyahu and Palestinian President Mahmoud Abbas.
US President Barack Obama has demanded that Israel halt completely all settlement construction in the occupied West Bank.
Netanyahu has said Israel will build no new settlements, but insists on the right to continue with construction inside existing ones to accommodate population expansion, so-called "natural growth."
Talks between Israeli and US officials to hammer out a deal on the issue are continuing, but Palestinians have said they will not renew suspended peace negotiations unless the US demand is met in full.
Abbas has also indicated he will not meet Netanyahu unless there is a settlement construction halt.
Solana said Monday that the EU is in full agreement with the US on the issue.
"We move on the same basis. The EU has always said and in a very clear way, that a freeze of settlements is a fundamental element," he said. (dpa)