Sensex rises to fresh record high; capital goods stocks gain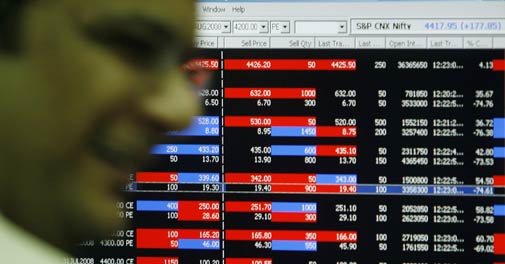 Mumbai, April 10 : A benchmark index of Indian equities markets touched a new record high of 22,792.49 points for the second consecutive day Thursday, surpassing the high of 22,740.04 points it touched Wednesday.
Healthy buying was observed in capital goods, banks and automobile stocks, while healthcare, fast moving consumer goods (FMCG) and information technology (IT) sectors came under sustained selling pressure.
The 30-scrip Sensitive Index (Sensex) of the S&P Bombay Stock Exchange (BSE), which opened at 22,729.46 points, was trading at 22,746.82 points around 1.00 p. m. trade session, up 44.48 points or 0.20 percent from the previous day's close at 22,702.34 points.
The Sensex touched a high of 22,729.49 points and a low of 22,672.72 points in trade.
The S&P BSE capital goods index gained by 143.37 points, bank index gained by 97.38 points and automobile index rose 72.52 points.
However, healthcare index declined by 87.18 points, FMCG index was lower by 26.75 points and IT index fell 15.34 points.
The wider 50-scrip Nifty of the National Stock Exchange (NSE) too touched a new record high of 6,819.05 points. It was trading at 6,807.65 points, up 11.45 points or 0.17 percent. (IANS)