Sensex off record highs, down 105 points in early trade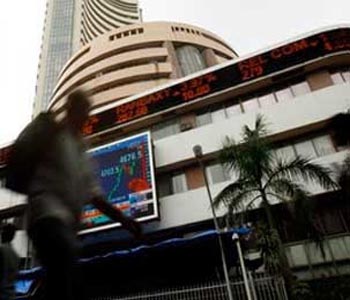 Mumbai - Retreating from record highs, the benchmark BSE Sensex fell over 105 points in early trade on Tuesday with metal, auto and power sector stocks leading the fall, triggered by negative domestic cues amidst a weak trend in Asian trade.
The 30-share barometer fell by 105.19, or 0.39 percent, to 26,331.83.
Yesterday, the gauge closed at a fresh life-time high of 26,437.02 after climbing to an intra-day record high of 26,630.74.
Also, the National Stock Exchange index Nifty shed 16.40 points, or 0.21 percent, to 7,889.90. It shed 6.90 points, or 0.09 percent to 7,906.30 after recording a new intra-day peak of of 7,968.25 in yesterday's trade.
Brokers said sentiments dampened after the Supreme Court yesterday held that all coal block allocations made since 1993 till 2010 have been done in an illegal manner, triggering widespread selling in metal and power sector stocks.
Shares of Sesa Sterlite were trading 1.43 percent down at Rs 276.25, while Jindal Steel & Power, which slumped 13.97 percent in yesterday's trade, lost another 5.49 percent to Rs 239.25.
Hindalco Industries too remained under pressure and fell further by nearly 4 percent to Rs 158. It plunged 9.56 percent in yesterday's trade.
Tata Power shares were down by 3.38 percent to Rs 87.30 and Reliance Power fell 3.76 percent to Rs 79.40.
Stocks of Maruti Suzuki, Tata Motors and Mahindra and Mahindra faced fresh round of selling pressure and fell between 0.78-1.18 percent after the CCI yesterday slapped a penalty of Rs 2,545 crore on 14 car makers for violating trade norms in the spare parts and after services market.
Among other Asian markets, Japan's Nikkei fell 0.40 percent, while Hong Kong's Hang Seng was trading 0.10 percent lower in early trade.
The US Dow Jones Industrial Average ended 0.44 percent higher in yesterday's trade. (PTI)