Sensex down 54 points in early trade; Rail shares surge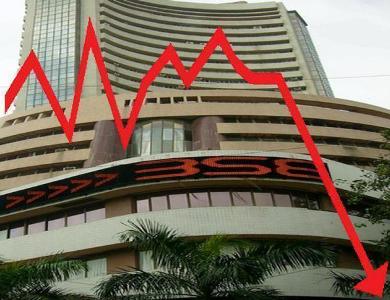 Mumbai: The benchmark BSE Sensex extended yesterday's losses by declining over 54 points in early trade on Thursday as funds and investors indulged in trimming positions, tracking a weak trend overseas.
However, shares of companies related to railways were in keen demand after the government yesterday approved FDI liberalisation in the sector.
The 30-share barometer, which had lost 242.74 points in the previous session, fell by 54.13 points, or 0.21 percent, to 25,611.14 in early trade.
On similar lines, the broad-based National Stock Exchange index Nifty shed 13.30 points, or 0.17 percent, to 7,658.75.
Brokers said capital outflows and sustained profit- booking by retail investors amidst weak global cues following signs of deepening Ukraine crisis dampened trading sentiment.
Bucking the trend, shares of companies engaged in railways-related businesses rallied after the Cabinet yesterday fully opened up the railway infrastructure segment, like high-speed trains, for foreign investment.
Titagarh Wagons surged 4.98 percent, while Kalindee Rail Nirman climbed 5 percent, and Texmaco Rail zoomed 13.57 percent. Kernex Microsystems India was up 4.95 percent.
Among other Asian markets, Hong Kong's Hang Seng fell by 0.35 percent, while Japan's Nikkei moved down by 0.21 percent in early trade.
However, the US Dow Jones Industrial Average ended 0.08 percent higher in yesterday's trade.--PTI