Security forces foil bombing in southern Philippine city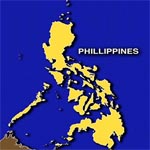 Cotabato City, Philippines  - Government security forces foiled a bomb attack on a southern Philippine city with the detonation of an improvised explosive planted near a pharmacy, a military commander said Thursday.
Colonel Domingo Gobway said the bomb, fashioned from a 60-millimetre mortar shell attached to a mobile telephone, was discovered late Wednesday along a busy street in Cotabato City, 930 kilometres south of Manila.
"Street boys saw the suspicious box containing the explosive," he said. "One of them, upon seeing the wires and mobile telephone, immediately carried the box to a non-populated area and called the police."
Military bomb experts who responded to the scene successfully defused the explosive.
Police investigators were still investigating possible suspects in the incident, including rogue Muslim secessionist rebels who have been blamed for several bombings in the area. (dpa)