'Retired' Afridi says he 'wants to play for Pak again' as coach Waqar set to quit
Submitted by Sukhdeep Grewal on Sun, 09/18/2011 - 17:04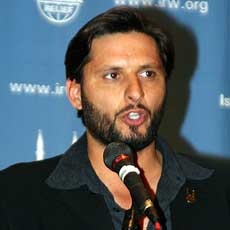 Karachi, Sept 18 : Retired Pakistan all-rounder Shahid Afridi has expressed his desire to return to international cricket as Waqar Younis, with whom he had serious differences during his captaincy, is set to quit as head coach.
Afridi had announced his retirement from international cricket in May after the Pakistan Cricket Board (PCB) removed him as one-day international (ODI) captain following a dispute with coach Waqar.
On the other hand, Waqar announced last month that he would step down after Pakistan's Zimbabwe tour due to personal and health reasons.
Talking to reporters in Karachi, Afridi said there was increasing pressure on him from different quarters to make himself available to play for the country, and promised an important announcement in a month's time.
"There is pressure on me that I should play again… I will make an important announcement in a month's time. Right now my focus is to keep on playing domestic cricket and in foreign leagues so that I don't get rusty," the Daily Times quoted Afridi, as saying.
"I want to play for my country again. My main dispute and problem was with Waqar Younis, but now that he is going, I am hopeful the situation will improve in the team," he maintained.
Afridi, who had developed differences with the coach over team selection during the West Indies tour, said he had many problems with Waqar.
"There were serious differences between us because he used to interfere in the captain's domain and on selection issues. My main grouse was with him. He is now going and things will change," the former captain said.
Afridi said he wants to play for the country, but is 'waiting for the right time'.
"I am confident that time will come soon," he added. (ANI)