Raina breaks into top 10 for first time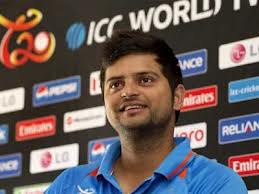 Dubai, Jan 28 : India batsman Suresh Raina has broken into the top-10 of the International Cricket Council (ICC) Player Rankings for ODI batsmen for the first time in his career.
Raina has jumped 15 places to 10th in the latest rankings released Monday. Raina was named player of the series against England after he scored 277 runs in the five-match series at an average of 92.33. Raina's efforts also helped him achieve a career-best 669 ratings points.
Another batsman inside the top 10 to improve his ranking is England captain Alastair Cook, who has moved up one place to seventh.
Outside the top 10, the batsmen heading in the right direction are Graeme Smith in 15th (up by six), Ian Bell in 23rd (up by six), Kevin Pietersen in 29th (up by one), David Warner in 35th (up by two), Kane Williamson in 36th (up by 18), George Bailey in 48th (up by three), Rohit Sharma in 54th (up by two), Lahiru Thirimanne (up by 12) and Faf du Plessis in joint 64th (up by three), Colin Ingram in 83rd (up by 14), Samit Patel in 86th (up by 10) and James Franklin in
90th (up by 13).
Australia's debutant batsman Philip Hughes, who was the highest run-getter in the series against Sri Lanka with 257 runs, has entered the rankings in 73rd position.
The batting table continues to be headed by South Africa's Hashim Amla, followed by teammate A. B. de Villiers in second and India's Virat Kohli in third place.
The Player Rankings for ODI bowlers is still topped by Pakistan's Saeed Ajmal, followed by teammate Mohammad Hafeez in second place. But there has been a lot of movement inside the top 10 of the bowlers' list.
South Africa's Lonawabo Tsotsobe has moved up a place to third, Sri Lanka's Nuwan Kulasekara, who was the number-one ranked ODI bowler in March 2009, has jumped up 16 places to sixth spot following his 11 wickets in the series against Australia, Steven Finn has gained one spot and is now in fifth position, and Lasith Malinga has returned after jumping 10 places to 10th.(IANS)