'Postpone Pak-NZ PDI in the wake of terror atack on children'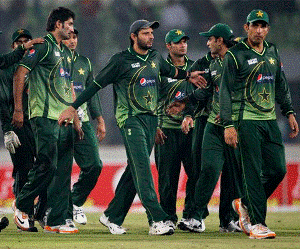 Karachi : The sporting fraternity of Pakistan has called for the postponement of the fourth cricket ODI against New Zealand in Abu Dhabi in the wake of the terrorist attack on the army school in Peshawar.
In one voice the sports fraternity strongly spoke out against the terrorist attack and said their hearts and minds were with the families of those who have lost their children in the attack.
Nearly 141 people including 132 children were killed in the attack yesterday, which led to a military operation to kill the terrorists and clear the school.
"I think as a nation we need to send out a unified message that we strongly condemn this barbaric attack on innocent children. And the best way is to postpone this ODI against New Zealand to send out a universal message to the world as well," squash legend Jahangir Khan said.
Jahangir said that he was stunned by what had happened and couldn't get over the barbarism of the act.
Tennis star Aisam-ul Haq Qureshi said he was shocked beyond words after the terrorist attack.
"Terrorist attacks have been taking place in Pakistan for years now but what happened yesterday has left me numb. How could human beings do such an act against innocent children?" he asked.
Aisam said the incident needed to be met with strong resistance and a unified message from every Pakistani.
"There should be no divide in opinion now that terrorists must be defeated at all costs."
Pakistan's hockey captain Muhammad Imran said as soon as they heard about the attack while returning from India via the Wagah border, the players only thought was that the children should be safe.
"The Pakistan Hockey Federation and the hockey community had planned celebrations to welcome us after our silver medal winning performance in the Champions Trophy in India. But I am glad it was called off and we all just wanted to return home quietly," Imran said.
Former Pakistan Test captain Rameez Raja said he didn't think the national team should play the ODI against New Zealand.
"I don't know what the authorities decide but certainly I can understand what the players must be going through right now," he said.
Another former Pakistan skipper Rashid Latif said even the New Zealand players would find it difficult to focus on the match after the barbaric incident.
"I don't know whether both teams would be in the frame of mind to play the match. When children are killed like this it is heart breaking," Latif said. (PTI)